What is Elder Law?
We include Medicaid Planning, Miller Trusts (QIT), Long Term "Look Back" Trusts, Special Needs Trusts, "Lady Bird Deeds", "1/2 Loaf" Trusts, Estate Preservation Trusts and other Estate Planning services in this category.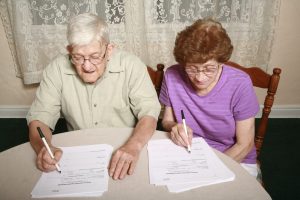 Elder Law is that specialty of the law that deals with people in the end stages of life. It is the art and science of seeing to long term care funding, care and right to die management, and estate preservation against final medical and dispositional expenses and taxes.
We prosecute applications for Benefits with the State of Texas Department of Human Services, DADS, for Medicaid Benefits for Seniors and Disabled Adults. We also handle appeals from the denial of applications which have been submitted without the assistance of an Elder Law Attorney.
Our Elder Law services are rendered on a fixed fee basis in phases. The first phase of work involves Capacity Assessment, Due Diligence and Financial Review, Primary Estate Documents (Power of Attorney, Medical Power of Attorney, Advance Directive) and Planning for Eligibility. The second phase encompasses implementation, document preparation, public recording, assisted asset repositioning, and eligibility confirmation. Our last phase involves preparing and prosecuting an application(s) for Medicaid Benefits with the State of Texas. We also offer ancillary services in Guardianship, Probate and Bankruptcy matters to augment our services to our Senior clients.
Click here for the Elder Law Initial Appointment Checklist
Click here for information on Qualifying for Nursing Home Care
Contact Us Now for an Initial Consultation
Call 281-419-8733 or complete the contact form linked here to arrange an initial consultation or case evaluation.